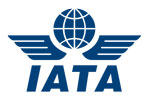 We increasingly handle air freight cargoes as part of our services portfolio, to answer the requests and needs of our customers, by providing global reach.
This year proved to be challenging for all industries, airborne transportation especially.
While business prospects are on the rise, the previous level of activities is yet to be reached on a global scale. Nevertheless, we expect that airfreight will remain an important part of the transportation landscape.
With that in mind, we have continued to develop this service and as of October 19th 2020, we are a full certified IATA Agent.
Being an IATA Agent makes us part of a worldwide network which promotes safety, reliability, trust and economy in air transport. This recognizes our commitment to comply with all standards related to the performance of airfreight activities, including in the case of hazardous shipments.
Our goal is to ensure that your cargoes are handled with care and comply with the regulations on security, legislation and customs procedures.
For more details, you can contact us at air@gopettrans.com