Intermodal Transport
Intermodal Transport Solutions are proving a good option not only for big companies, but also for smaller businesses. Road-rail setups mix efficiently trucks' agility for covering short distances and minimum CO2 emissions of freight trains going large distance on shorter time and using electrified tracks.
Intermodal transportation – "greener" logistics for your needs
The impact of transportation and logistics industry on environment is historically recognized, with road transportation having one of the major CO2 footprint. During last years, technology advancements within the truck industry have brought new and friendlier equipment on the market.
Yet there are still significant gaps when comparing with intermodal transport. Intermodal solution offers an excellent alternative to minimize the impact on environment and is available right away.
Advantages of intermodal transport
Besides environmental effects, intermodal services provide advantages such as: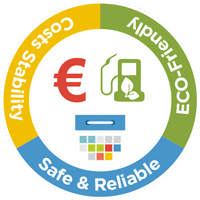 Deliveries Regularity
Limited impact of traffic congestion or restrictions versus road
Safe and Reliable
Highest quality & safety services
Facilitation of ADR transports
Transport documentation simplification
Extensive Know-how
Since 2013 we are developing and implementing, at Group and local level, intermodal setups – bookings or complete block trains. Our team can customize solutions based on your needs and connect you smoothly with your clients or suppliers from Western to Eastern Europe. Continuous investment in fleet allows us to offer high level performance and safety.
 Intermodal Transport on existing setups 
Thanks to the collaboration with the main intermodal rail operators in Europe, we can organize the entire transport circuit in safe conditions: terminal-terminal transport, pick-up from the sender and distribution to the final destination, but also other additional operations (cross-docking, trailer-pool, warehousing, and logistics).
 New Solutions' implementation 
Depending on volumes and frequency, we offer consultancy in choosing the optimal option taking into account the volumes, frequency and additional services desired by the client: new routes or block trains for existing routes. We ensure their implementation as well as operational management.
Depending on customer needs, we can include multimodal solutions, such as ferry (road – rail – ferry).
With the help of modern tracking solutions, our team monitors the transport from pick-up to delivery. We can ensure integrations with customer systems / applications in case of complex / long-term projects.
Together with our colleagues from the Maritime / Air departments we can organize combined circuits (air / sea – road – railway). Contact us for a discussion.
Fleet – over 200 units
Our current fleet for intermodal rail service contains mostly 45PWHC containers and Tilt trailers.
 P 400 Trailers – Code XL / Multi-lock system  
Internal length: 13620 mm
Door opening height: 2700 mm
Side loading height: 2700 mm
 Containers 45ft Pallet Wide High Cube 
Internal length: 13530 mm
Door opening height: 2570 mm
Door opening width: 2410 mm
In addition to standard equipment all units could be equipped as per customers' requests. Trucking at both ends – EURO VI trucks.
History in brief
Gopet started to develop intermodal solutions in 2013, aiming to create combined traffic corridors (road-rail) between the Balkans and Western Europe. Our object was to transfer 20% of the road freight traffic managed by Gopet to the railway within 5 years.
Our project also had the support of INEA, through a Marco Polo program, and the first deliveries took place in the UK. With the development of the project, deliveries expanded to Belgium, the Netherlands, the Ruhr area in Germany and northern France.
To the existing trains network connecting Curtici and Oradea terminals with Western Europe, we have added our own trains, organized entirely by Gopet:
On July 20, 2014, our first container train ran between Ruse, Bulgaria and Curtici, Romania. The consolidation of the volumes loaded on this segment made possible the integration of a new container train running between Curtici and Chiajna and makes possible the connection with Constanta.
On July 11, 2018, GOPET launched its second train and the first intermodal train connecting Romania and Poland, between the terminals located in Oradea and Lodz.
Contact us for a customized solution