This article was featured in Busines Focus Magazine, Nov. issue.
GOPET TRANS is a transportation and logistics organization, looking at how to make the world's supply chains more sustainable.
GOPET TRANS was founded in 1995 in Sofia, Bulgaria, to provide stable and reliable transport services to companies looking to export or import to Bulgaria or the Balkans. Over the last 27 years, the firm has faced a dynamic market environment, dealing with everything from the EU membership process and further expansion towards the East, the financial crisis in 2008, and of course, the impact and consequences of the Covid-19 pandemic.
"All these events shaped our company and showed our resilience in the market," says Kamelia Vasileva, GOPET TRANS's Global Commercial Manager. "Today, we are a one-stop Transportation and Logistics services provider with a regional footprint in Bulgaria, Romania, Poland, Greece, Turkey, and Spain. Our range of services has also developed in direct relationship with markets and clients' needs evolution."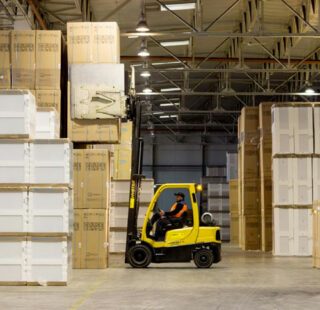 GOPET TRANS offers land transportation that covers Europe, the Middle East, and former CIS countries, with global reach via sea and air services to any commercial destination, as well as logistics and warehousing services in Bulgaria, Greece, and Romania. It offers these services and facilities to clients in the automotive, agriculture, retail, FMCG, tobacco, beverages, furniture, manufacturing, metalworking, and electronics sectors, and many more.
Transport and logistics is a highly standardised and relatively commoditised industry. Still, as Vasileva points out, there are ways for a company to differentiate itself.
"Our business philosophy has always been straightforward, client-centric, and focused on supporting our partners' growth for mutual development, not just physically moving their goods," Vasileva tells us. "That went directly into our tagline – 'Solutions to forward your business'. Being what we call an 'asset light' supplier, we have always focused on building long-term relationships with both customers and carriers, and we have become a vector of development for the communities where we are present."
A Combined Approach
An intermodal understanding of the supply chain is absolutely vital to the way GOPET TRANS works, and, Vasileva believes, is critical to the supply chain as a whole in the face of the sustainability and climate challenges ahead.
"Transportation, in all its forms, ranks first in terms of CO2 emissions. Long before the pandemic, industry, and legislators across the EU have been concerned with reducing this footprint," Vasileva insists.
Among the solutions being implemented across the industry, the most prominent are fleet renewal with more efficient equipment, improved planning via IT tools to limit empty kilometres, drivers' training, and other related initiatives. But these tools only cover the traditional ways of transporting goods.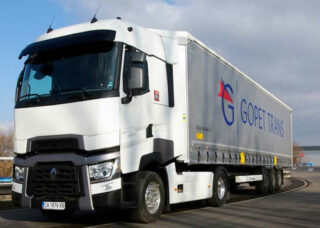 "Europe is continental, and road infrastructures developed more rapidly than rails. Also, road freight transportation is the most efficient in terms of time to destination and flexibility, so it is rather challenging to substitute with air or inner river transportation, which are much more costly or slower and require additional operations," Vasileva explains. "On the other hand, rail has always been an excellent complementary transportation means to the road, with wider networks that have been electrified and modernised. But a great deal of work is still to be done, given the infrastructural differences between various European areas, which impact performance and productivity."
The road-rail combination has proved to have significant impacts on limiting CO2 levels. There are multiple signals in the markets pointing to this. For instance,  the major structural works to improve or expand current networks, especially in Germany. Or, within the context of post Covid-19 plans, resilience funding awarded to states is asking for investment in improving national transport infrastructures.
"As most states have seen significant increases in road transportation, freight included, in the past decades, most of the times over existing capacity, which in turn creates congestion and further pollution," Vasileva says. "Other essential stakeholders in widely accepting the road-rail combination are the shippers (goods owners). While 'Fit for 55' requires a significant transition to limit greenhouse gases by 55% by 2030 for all industries and society, steps in adopting and adjusting the setups are still to be done."
As Vasileva observes, most companies are open to intermodal transportation in principle. Yet in day-to-day activities adoption is somewhat limited. Integrating intermodal transportation requires a change or an upgrade in internal processes and seems more fitted to companies with more significant outputs and regular shipments' frequencies.
"We are involved with our clients in such transformations, and we can say that significant changes require vast amounts of time and effort," Vasileva points out. "To that point, we established our Intermodal Division in 2013 and have done quite a bit of pioneering in reintroducing and developing intermodal transportation in the Balkans."
As an example, one of GOPET TRANS's most important projects has been to create an intermodal connection between Bulgaria and UK to shift freight from road to rail, financed via a Marco Polo grant. The project, titled B2UK, aims to limit congestion and CO2 emissions, and also improve safety.
"Today we have several active setups running through Europe in collaboration with long-standing suppliers and partners," Vasileva says.

A Greener Supply Chain
The implementation of intermodal transport is just one method GOPET TRANS is pursuing to make the supply chain more sustainable.
"A delicate balance is often struck, as with intermodal investments, which tend to create value for clients and the environment more promptly than our ROI," Vasileva points out. "Still, we tend to calculate the value of an initiative by also including benefits that are not immediately quantifiable as the increase in skills and expertise, the development of a new market, and the motivational rewards our teams enjoy while developing the future of transportation."
Digitalisation is another critical working direction, because managing a sustainable business entails implementing innovative work to become more productive.
As Vasileva tells us, "Technological improvement helps greatly in, for example, improving capacity planning or having real-time visibility of overloaded or available trucks. Such requirements are not only external (clients) but also internal, from our own need for efficiency and further development to defend our leadership in our key markets."
A third direction is creating the avenues that GOPET excels in- being a "learning organisation," which empowers itself and its people to become better and more creative in their jobs.
"None of the above is easy or prompt to deliver results," Vasileva concedes. "We see them instead as a continuous transformation that benefits our company and all our stakeholders."
The factors involved in this transformation go beyond technological and economic issues, however. As Vasileva points out, legislation makes the most significant impact.
"We're discussing whether national legislation impacts businesses at a local level and whether EU legislation adds a layer of macro effects," Vasileva tells us. "This includes CO2-orientated legislation. Then we have the mobility package, promoting fair access to jobs and payment but also creating a misbalance of capacity usage and, as far as some recent studies show, a potential increase of CO2."
GOPET TRANS is an international company that operates across boundaries between countries, and so more than most Vasileva appreciates that insufficient harmonization between countries can leave the carriers crossing Europe dealing with unwanted or unforeseen situations. At the same time, the still present impact of the pandemic is being exacerbated by the fallout of the war in Ukraine.
"A more open and inclusive exchange between legislators and industry would represent a proper mechanism for evaluating impacts and proposing working solutions," Vasileva argue. "After all, transportation is the backbone of the economy. As we saw in March 2020, and then during lockdowns, the industry's visibility reached unseen highs. It became pretty clear that we could not do without transportation. Improving the industry and the working conditions is a must, yet it needs to be approached wisely."
Transportation, in all its forms, ranks first in terms of CO2 emissions. Long before the pandemic, industry, and legislators across the EU have been concerned with reducing this footprint.